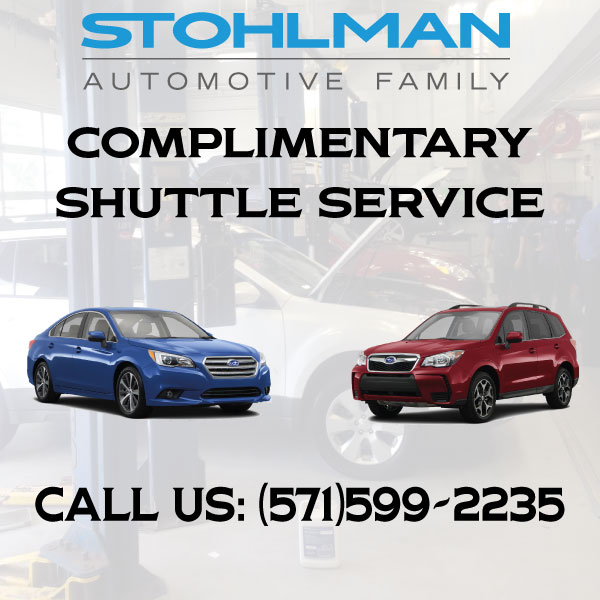 Need to get to work while your Subaru is being serviced? No problem! At Stohlman Automotive we are a family and we want to help you out whenever possible. We have a complimentary shuttle vehicle available on a first-come, first-served basis to pick you up and drop you off where you need to go!
To and from the Wiehle-Reston East metro stop on the Silver Line. Pick up is at the North Entrance Kiss & Ride dropoff.


5-Mile Radius from the Dealership
To schedule a pick up, please call the service department at 888-811-7714 and let the service advisor know what time you will need to be picked up. 
The shuttle service runs during normal service hours:

    7:30am - 6:00pm Monday-Friday
Make an Inquiry
Service Hours
Monday - Friday

07:00am - 06:00pm

Saturday

07:00am - 03:00pm

Sunday

Closed
See All Department Hours
Dealership Hours
Monday

09:00am - 09:00pm

Tuesday

09:00am - 09:00pm

Wednesday

09:00am - 09:00pm

Thursday

09:00am - 09:00pm

Friday

09:00am - 08:00pm

Saturday

09:00am - 06:00pm

Sunday

Closed, First Sunday of the month
Parts Dept. Hours
Monday

07:00am - 06:00pm

Tuesday

07:00am - 06:00pm

Wednesday

07:00am - 06:00pm

Thursday

07:00am - 06:00pm

Friday

07:00am - 06:00pm

Saturday

07:00am - 03:00pm

Sunday

Closed
Service Dept. Hours
Monday

07:00am - 06:00pm

Tuesday

07:00am - 06:00pm

Wednesday

07:00am - 06:00pm

Thursday

07:00am - 06:00pm

Friday

07:00am - 06:00pm

Saturday

07:00am - 03:00pm

Sunday

Closed