The 2021 Subaru Love Promise Customer and Community Commitment Award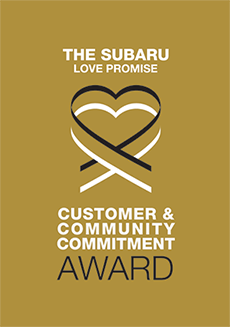 We've been nationally recognized for our dedication to our customers, our community, and the Subaru Love Promise.
We're honored to receive the 2021 Subaru Love Promise Customer and Community Commitment Award. This award nationally recognizes elite Subaru retailers who provide an exceptional customer experience at every interaction with Subaru. These retailers have also demonstrated an outstanding commitment to supporting passions and causes in their local communities in important areas such as the environment, community, health, education, and pets.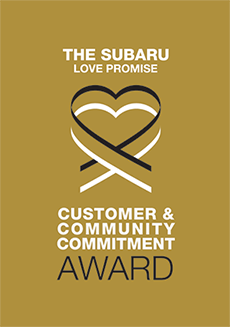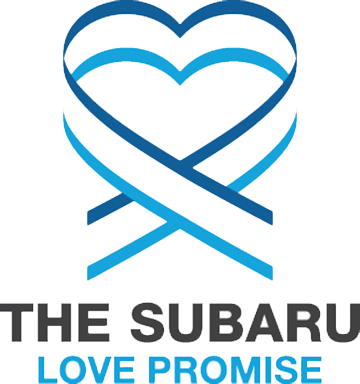 What is the Subaru Love Promise?
Subaru and our retailers believe in making the world a better place and the Subaru Love Promise is our vision of respecting all people. This is our commitment to show love and respect to our customers and to work to make a positive impact in the world.
How is Stohlman Subaru of Sterling dedicated locally to the Love Promise?
Our Love Promise can be seen in various partnerships with local charities and non-profits. We're grateful for the opportunity, not only to be a part of our community, but to serve it as well.
K-9 Caring Angels, Friends of Homeless Animals
SpringFest, National Wildlife Federation
Just Tryan It, Loudoun South Little League
Novant Health, Leukemia & Lymphoma Society
Love Promise Stories from Stohlman Subaru of Sterling
Subaru and Stohlman Subaru of Sterling believe in making a positive impact on the communities in which we live and work. We uphold that belief through our Love Promise Community Commitment. Every month, we select inspiring stories from customers and partners from around our area who strive to support our collective commitment and feature them here
Recent Subaru Outback Purchase - Aimee B
My husband and I were referred to Stohlman Subaru of Sterling by Adam Portzel. He mentioned that they were a great team and we would feel well taken care of. We ended up purchasing a white 2021 Subaru Outback. The salesman Mike Cerqueira took great care of us and provided realistic information. He was organized, timely, and made the entire process seamless and enjoyable. My mother owns an Outback and it has been my dream car for a long time. I felt really empowered to be able to purchase one and have been enjoying it since the purchase date. I'm happy to be a part of the Subaru family!
---
Stohlman Subaru #HungerHeroes - Sarah M
Stohlam Subaru stepped forward to help provide over 20,000 meals for our neighbors in need at a particularly critical time. This year, the Blue Ridge Area Food Bank has seen a dramatic increase in visits to our partner food pantries and nutrition programs. The need in our region is historic, and the trend shows no signs of weakening. As the economic fallout of the pandemic continues, the support from Stohlam Subaru strengthens our resolve to help our neighbors in need, no matter what. Thank you for joining with us to make sure that the 115,390 neighbors we serve each month have enough to eat. We are honored to have you at our side; because when we stand together, hunger doesn't stand a chance.
---
Service dogs for Veterans & First Responders - Sonny M
Thanks to the ongoing efforts and support from Stohlman's Subaru in Sterling VA we have been able to continue our efforts to provide psychiatric service dogs for our first responders and military veterans who suffer with all forms of PTSD. Because PTSD is the invisible would our veterans are often made to feel invisible or ignored but PTSD is very real, and the 22 suicides a day should be proof enough but still it continues. Our goal is to give our soldiers and first responder a fighting chance by providing a bridge that will help them reemerge into society, assist him with night terrors or psychiatric melt downs, accompanying them to appointments and giving the sense that they are not alone and someone still has their six. We have seen time and time again how the love of a trained companion who can recognize and alert when their owner is having difficulty can give them and their families a second chance at life. Training a service dog takes a minimum of 600 hours not to mention the care, feeding and medical expenses, it can easily run into $15-$20, 000 before a year is up. This year, because of the love and support we have received from Subaru's share the love we have placed, trained and certified 7 beautiful English cream retrievers. 1 is a first responder dog who was place in the Richmond fire department, Lady K and the other 6 have been placed with military veteran and first responders as trained and certified Psychiatric service dogs. Thank you from the bottom of our hearts and the heart of each and every one who has received a partner in their journey, their psychiatric service dogs. God bless you Subaru!!
---
Lady Georgia - SONNY M
K-9 Caring Angels is a small non profit who raise and train service dogs for our military veterans and first responder. Because of the generosity of the Sterling Subaru here in VA we have been able to raise and train one of the most beautiful full bred English Cream Retriever we have ever had the pleasure of training, Lady Georgia. Although we love all breeds from all dogs, we decided to stack the deck as best we could to provide the healthiest dog by purchasing and raising a pure bred ECA from Shady Mist Kennels so we would hopefully ensure a longer and healthier life span for our dogs. Lady Georgia was a hit from the beginning, full of love and affection to anyone she met. She was Bred to another handpicked male and on Dec 30th she gave us 7 beautiful pups. Hers the thing, if Subaru had not supported our cause for the service dogs we might not of had enough fund to bring these pups into this world, the day of delivery Lady Georgia went into distress and we almost lost her and her pups. Thanks to a local veterinary, Artimes emergency and the funds that had been donated to support Lady Georgia we had what we needed for the emergency C-section. We were told we had already lost one pup and might lose everyone including Lady Georgia but by the grace of God we had our Christmas miracle and not only did Lady Georgia come through but even the pup that we has been told we had already lost survived! Even so we never dreamed she would produce such amazing pups. I thought we might get 2 or 3 service dogs if we were lucky but we have 7!! We have been able to promise 7 beautiful pups to our first responders and military veterans. America loses 22 veterans every day to PTSD suicide, 22 may seem like a small number that's easy to ignore, but that's over 8,000 a year! 8000 of our sons and daughter, brothers and sisters, moms and dads, friends and loved ones. Our Goal is to continue to provide Psychiatric service dogs to our soldiers until that number is 0 and we couldn't do that without Subaru's support! thank you thank you and God Bless you!
---
Crushing Cancer At Both Ends Of The Leash Partner - Ulrike S
Stohlman Subaru of Sterling became our "Platinum Partner" in supporting The Canines-N-Kids Walk, Run, Cure Event. Stohlman was a huge hit, the MANY staff members that attended won the hearts of the crowd. Everyone was so kind & generous with gifts and coupons. Being a leader in the community with recycling and local activities is just a fraction of this companies support within our community. Stohlman Subaru also supports dulles little league, South Loudoun little league's & the Loudoun County Schools. Thank you Cathy Stohlman and your fabulous employees for joining our cause this year to put an end to the cancers children and our canine best friends BOTH develop - devastating cancers including bone and brain cancer, lymphoma and leukemia. We look forward to next years event & crushing cancer.
---
K-9 Caring Angels appreciation letter - SONNY M
K-9 Caring Angels would like to thank Stohlman Subaru for their generosity and support choosing us for their 2018 local charity as part of Subaru's annual "Share The Love Campaign". K-9 Caring Angels are humbled by the charity, effort, and drive of Stohlman's management, staff, and great customers. Through their combined efforts, the Share the Love Campaign raised $22,583.00 toward our mission to acquire, train, certify and donate psychiatric service dogs to those men and women who have sacrificed much in service of the United States in our armed forces. From Post-Traumatic Stress Disorder (PTSD) to traumatic brain injury and Military Sexual Trauma. We lose 22 soldiers daily due to P.T.S.D. and our goal is to help as many as we can that would benefit from a psychiatric service dog in their lives. With your help, we will. It was perhaps best said by one of the first veterans we donated a service dog to Eaan Green: "She gave me back something that I didn't have which was peace. I sleep better at night, she wakes me up when I'm having a nightmare… I don't have this high anxiety anymore. She has been just great, and I've had the best time ever because I can always look at my hip and she is there. She is there with me at work, at school, at the store, at my kid's practices … anywhere, she is with me… she is my backup, the best kind of backup there is, all she wants is unconditional love and food."K-9 Caring Angels
---
Stohlman Subaru Loves Learning in Loudoun County - Legacy S
When local businesses invest in our local schools of Loudoun County, it helps everyone in the community. Stohlman Subaru of Sterling is one of the best local businesses we have had the pleasure of meeting. These folks came out in Subaru-Style and donated A TON OF BOOKS to our library here at Legacy Elementary. The people delivering the books were clearly employees, there was a mechanic, salesman, service & marketing staff. Our students were able to see and hear about the kindness from a local family owned Subaru Dealership & that sparked many conversations. We talked about the different jobs at a car dealership and how they all have to work together as a team to get the job done. Many of the students have parents that own a Subaru & they were quite proud to be associated with the brand. The customers and employees of Stohlman also wrote notes to the students, donated lots of school supplies and book markers too. These books and supplies are crucial to the continued learning of our children. Thank you for being a leader in Loudoun County and supporting our local schools, teachers & students. We love you Stohlman Subaru of Sterling!
---
The Greenest Dealer in NOVA - Jen C
It's no secret that Stohlman Subaru of Sterling (used to be of Herndon) is committed to being an active partner in educating the community about recycling and keeping the planet healthy. They went above and beyond this year at our SpringFest event by having engaging activities, many new Subaru cars on display & a stellar staff that was beyond helpful. Patrick and Jimmy are quite the hula hoop-ers too! Stohlman Subaru of Sterling is a Certified Green Dealer and they actually have all their recycling totals publicly displayed for everyone to see. Thank you, Stohlman, for all your support as we seek to reduce littering and to encourage recycling, reusing, reducing consumption and promote community action together.
---
Thank You for Sharing Hope & Warmth! - Jenny H
On Wednesday, July 18th Stohlman Subaru prepared to deliver blankets to Novant Health for the third year in a row! Patrick and Adam from Stohlman Subaru arrived at Novant Health excited and ready to give cancer patients messages of hope, blankets, and bags. Upon arrival, the LLS, Stohlman Subaru, and Novant Health teams cheerfully worked together to bring the blankets inside. Everyone gathered together for a picture in the new lobby of Novant Health. It was a great opportunity that included not only the Novant staff, Stohlman Subaru representatives, and LLS staff, but also local patient ambassador Rich Zavadowski who was declared cancer-free in 2014 after a successful clinical trial. After taking photos, Kandice, one of the unit nurses took a few minutes to explain to Adam and Patrick how important the blankets are to their patients. Kandice shows how she cares by putting them in welcome kits for new in-patients on the oncology floor. Every single patient that is admitted receives a blanket! She then took the Stohlman Subaru and LLS staff on a tour of the new public space, including Novant Health's incredible new healing garden. For the end of the tour, Kandice brought us through the infusion unit to meet the patients that Subaru is able to directly help with their donation. Both Patrick and Adam left Novant Health knowing that Stohlman Subaru helped local cancer patients stay warm and feel cared for.
---
Commited to making a difference in Loudoun County - susan l
For the past several years, FOHA (Friends of Homeless Animals) has been the recipient of the Stohlman Subaru of Sterling Share the Love campaign. We are so grateful to Stohlman and to our community for their generosity. Our mission is to keep as many rescue dogs and cats from unnecessary euthanasia, allowing them the chance to live full lives. In return, we are able to create fur families in the community, bringing people and pets together, living happily ever after. Without the support of Stohlman Subaru of Sterling, our animals could face the worst possible outcome. Instead, Stohlman continues to donate to our organization, plus they are the most gracious hosts to several of our pet adoption events throughout the year. Thank you Stohlman, and thank you, Stohlman customers, from all of us at FOHA, humans and pets.
---
Stohlman Subaru Loves to Care! - Jenny H
Stohlman Subaru of Sterling shared the love at Novant Health UVA Health System in Manassas, VA on July 10th where they delivered 80 blankets, 10 arts & craft kits and several messages of hope for patients. When we arrived upstairs Ali Avera, a registrar in the Oncology Center, and Gail Behrle, a staff member from one of the in-patient units were there to greet us. They were both incredibly pleased and grateful at the prospect of having blankets to give to incoming patients. They both expressed that they believed the care cards and blankets would help keep patients' morale up and stay warm. Kelly Persons, director of Novant Health's foundation, explained how, "It will be so meaningful to our cancer patients to know that they are thought of by the folks in our local Subaru dealerships. Through the Subaru Loves to Care donations, our cancer patients at Novant Health UVA Health System are being cheered on, with blankets and care kits, during their journey to good health!" Rich echoed similar thoughts and told us that the value of a blanket is so important to patients for many reasons. He told us that not only do the blankets help patients stay warm, but also give them hope. They let patients know that people in the community truly care about them and their health. Rich explained to the Stohlman Subaru representatives that the blankets they were delivering were going to make a world of difference to the patients in the hospital.
---
Subaru and NWF Love the Earth! - Jen M
Many, many thanks to all who came out to help with yesterday's Subaru/National Wildlife Federation gardening event! It went off without a hitch, despite the rain in the morning and a couple of injured slugs and grubs! We couldn't have done it without you and really appreciate all that you did to support our event. It was a terrific way to generate community support and natural habitat stewardship. (Again, with the notable exception of a few injured grubs and slugs!) The PTA Gardening Committee truly appreciates the effort and enthusiasm that went into helping our event be such a success. It was fun seeing the kids so excited about being in the dirt and finding all of the creatures. We look forward to seeing the perennials really take off and become plants that are enjoyed by all.
---
LLS Donation - Nicole S
For the second year in a row, Subaru of America and LLS are bringing the Subaru Loves to Care initiative back to life at 475 Subaru retailers across the country. Here, in Washington D.C. we have 10 retailers so visit a participating retailer to sign a hope card or visit the following link to write an online message of hope to a blood cancer patient in need.
---
Subaru Loves Learning Book Drive August 1 - 31 - Danielle S
Join us in our Subaru Loves Learning initiative during the month of August! We are partnering with the American Association for the Advancement of Science (AAAS) in donating science books to Cedar Lane Elementary School in the Loudon County School District. All of the books that will be donated have been recognized by AAAS as some of the best science books in their field. Contact us to learn more information.
---
Subaru Loves the Earth - E-Waste Event - Danielle S
We would like to thank our customers for participating in our E Waste Recycling event during the month of April. With your help, we were able to prevent 12,957 lbs of carbon emissions from polluting the atmosphere. This is equivalent to saving 497 trees, 2,203 gallons of gasoline, 18,784 plastic bottles, and 86,399 aluminum cans. Thank you for helping strengthen the Subaru Love Promise!
---
Second Chances, Thanks to Subaru - Susan L
Subaru has become an integral partner in Friends of Homeless Animals (FOHA) lifesaving mission. We were very fortunate to receive a recent grant that we have dedicated to medical care, allowing us to rescue dogs and cats that would have otherwise been euthanized. Nala is a very special recipient of that lifesaving care. Nala, an Australian Shepherd mix was in a county pound, scheduled to be euthanized because of a vision problem despite being the sweetest dog ever. FOHA was able to help, thanks to our grant from Subaru. We knew with a little specialty care, this sweet dog would be able to live a full, healthy life as a cherished family member. Meeting her it became clear that she was blind and was clearly something she had endured for a while. A Veterinary Ophthalmologist diagnosed her with severe glaucoma in both eyes and said that the pressure in her eyes was very painful, requiring emergency medications and ultimately surgery to remove the eyes since there was nothing that could be done to restore her vision. Having the surgery took away so much pain from this sweet dog, greatly improving her quality of life. Nala even managed to charm her wonderful foster family into adopting her! They decided they could not live without the joy that Nala brings every day. There are so many pets that just need a little extra care to get them to their forever family and Subaru has now made it possible for FOHA to reach pets like Nala, whose lives depend on us. Thank you, Subaru!
---
April 1-30, 2015 E-Waste Recycling Event - Molly M
Throughout the month of April, we are hosting an E-Waste Recycling Event in our store to collect unwanted electronics. We've arranged to work with a company who will responsibly collect, re-purpose, and recycle your electronic waste. Help us protect our environment. Just show up with your E-Waste and we'll do the rest! The first 50 customers who contribute will receive a complimentary environmental badge of ownership. We will accept: LCD Monitors, Cell Phones, Laptops, Tablets, CRTs up to 40, Video Games/Consoles, Fax Machines, DVD/VCR Players, Printers, Computer Peripherals, Switches/Routers, Cords and Wires.
---